G. N. Morhig postcard series:
Charles Gabriel Seligman slide collection
Richard Buchta (1845-1894)
View photographs by Richard Buchta.
The Buchta prints in the collection are copies of those published in Die Oberen Nil-Länder: Volkstypen und Landschaften . Dargestellt in 160 Photographien, nach der Natur aufgenommen von Richard Buchta. (Berlin 1881. Verlag Von J. F. Stiehm). It is not a complete set but seems to be a selection of those images considered of 'anthropological' use, and was collected by the museum at an early date.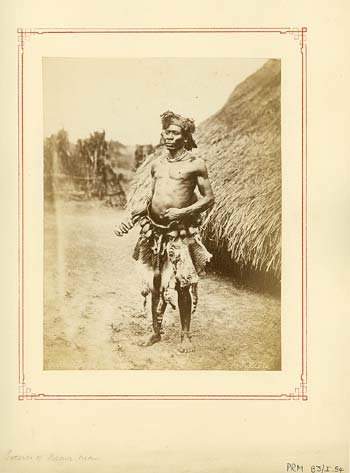 Showing
1998.203.1.54
mounted
Buchta was an Austrian professional photographer, who had probably been working in Cairo for several years before meeting the Italian soldier-administrator Romolo Gessi there in April 1877. Buchta is known to have been in Khartoum in the middle of 1878, perhaps as a freelance photographer. In August he set out from Khartoum on the S.S. Safia bound for Lado. He afterwards completed a journey as far south as Bunyoro in northern Uganda, returning to Lado in March 1879. From there he journeyed west to visit Zande (Makaraka) and other communities. In September 1879 he went from Lado to Shambe and then westwards, meeting the missionaries Wilson and Felkin as well as Gessi at Dem Suleiman before December 4. In February 1880 Buchta met Junker at Meshra el Rek, on his way to Khartoum, and he showed him prints he had made, especially from his recent travels in Makaraka. Buchta was back in Europe probably by the end of 1880, publishing his photographic collection the following year.
Scope of the Collection: 116 mounted prints
The prints are mounted on cards with ornamental printed red borders, entitled in English in pencil at the bottom, most also being numbered on the reverse. It seems that these English titles are translations from an index originally published in French or German, since it often reproduces words such as 'danseuses', 'Schilluk', 'Schuli' etc. A number of the prints have French titles in negative, such as 'Ferme de la Tribu Abaka, Afrique Centrale' or 'Un Binsa, Sorcier de Niam-niam'. More research will hopefully reveal the historical layers of this set of important prints. Other copies of Die Oberen Nil-Länder in Britain can be found in the Sackler Library, University of Oxford, as well as the British Museum.