G. N. Morhig postcard series:
Charles Gabriel Seligman slide collection
Jean Carlile Buxton (1921-1971)
View photographs by Jean Carlile Buxton.
Jean Buxton was a diploma student at the Institute of Social Anthropology, Oxford, in 1949, and went on to do field work among the Mandari of Southern Sudan, initially at the request of the Sudan government. The Buxton family already had a number of associations with the Sudan, and two of her cousins were administrators there during her research. She was introduced to anthropology by one of them, Paul P. Howell (Sudan Political Service 1938-55, D.Phil 1950), and another cousin C. de Bunsen, was deputy-governor of Equatoria Province in 1951-52. Her initial fieldwork among the Mandari was undertaken during 1950-1952, making a brief return visit in 1958. Her B.Litt thesis, 'The Social and Political Organization of the Mandari' (1953) was ultimately published as Chiefs and Strangers. A Study of Political Assimilation among the Mandari (Clarendon Press 1963). Her D.Phil thesis, 'The Religion of a Southern Sudan Tribe Ð the Mandari' (1957) was substantially revised and became Religion and Healing in Mandari (Clarendon Press 1973). She died quite suddenly while the proofs of this book were going to press. She held no permanent post in anthropology, but she did give a number of lectures at the London School of Economics and elsewhere.
Scope of the collection:
539 (square format, 120 film) negatives, 309 prints, relating to field work in Mandari 1950-1952 (mostly black & white) and 1958 (mostly colour).
1998.97.278.2
Buxton has circled one figure in this photograph in black pencil. The figure marked out is a grey-haired woman sitting at the base of a household shrine, and is the subject of an invocation by a doctor of Powers standing over her, called Ako. Buxton's circling of the figure is an interesting example of the intellectual use of a photograph by an anthropologist after fieldwork. In this instance, Buxton's drawn circle seeks to impose a new focus upon the old woman, who is relatively de-emphasised in the original image. This subsequent intervention imposes (or perhaps just reasserts) in a direct and diagrammatic manner a strong narrative framework upon the photographic one of the original exposure.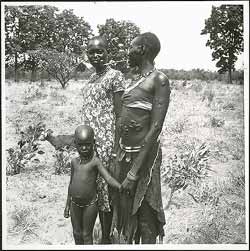 1998.97.24.2
Reverse of
1998.97.24.2
with inscription, "With best regards from Jean Buxton (AYAK) Mandari 1950-1951"
Prints from the collection showing soil marks and wear and tear, evidence that Buxton used a number of her photographs during fieldwork and showed them to members of the Mandari community.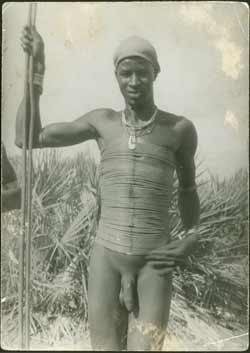 1998.97.250.2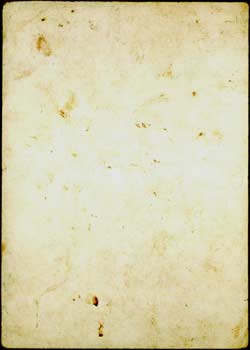 Reverse of
1998.97.250.2
1998.97.299.2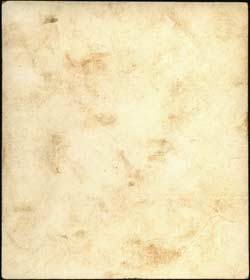 Reverse of
1998.97.299.2