Nuer men hunting hippo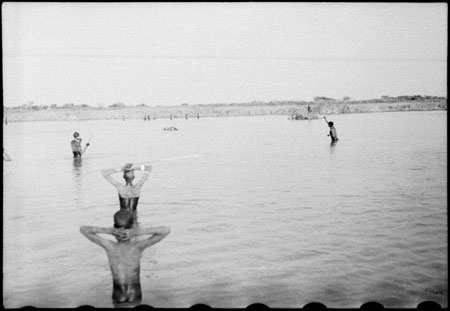 35 mm | Negative film Kodak Panatonic
Previous PRM Number:
WT.Southern Sudan.3.19
Accession Number:
2004.130.32854.1
Description:
Looking across a lagoon towards a number of Nuer wading and punting on floating beds of vegetation as part of a hippo hunt. Their hippo quarry can be seen in the centre of the river. Thesiger wrote that the Nuer prized hippopotamus meat for its fat content, and he occasionally shot a hippo to provide his porters with a treat.
Photographer:
Wilfred Patrick Thesiger
Date of Photo:
1938
Region:
[Southern Sudan] Wahda
Group:
Nuer Western Jikany
PRM Source:
Wilfred Patrick Thesiger
Acquired:
Accepted as Art in Lieu of Inheritance Tax by H.M. Government and allocated to the Pitt Rivers Museum, March 2004
Other Owners:
n/a
Class:
Topography , Hunting
Keyword:
Rivers and Streams , Animal Hippopotamus
Activity:
Hunting
Other Information:
Manual Catalogue (Thesiger album card) entry for similar image - 'VOL E p. 26/centre R. harpooning hippo' Note on album page ms pencil - "HARPOONING HIPPO" (on album page above print) [Elin Bornemann 24/5/2004] Thesiger writes in detail about this hippo hunt in The Life of My Choice (Harper Collins 1987), pages 273-4. Chris Morton [16/9/2004]
Recorder:
Elin Bornemann [10/12/2003] Christopher Morton [16/9/2004] [Southern Sudan Project]