Mandari homestead shrine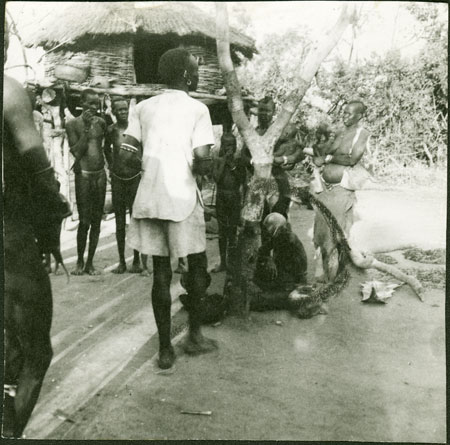 78 x 78 mm | Print gelatin silver
Condition:
black circle drawn on in pencil [Chris Morton 9/3/2005]
Date of Print:
Unknown
Previous PRM Number:
JB.8.13
Accession Number:
1998.97.278.2
Description:
Doctor of Powers Ako Akurukway conducting a preliminary rite in a homestead in Jarra village next to a shrine to the Power Mutia agok. A grey-haired woman sits at the base of the shrine, and is the subject of Ako's invocation. She was the mother of the homestead head and his brother Asek, an apprentice to Ako, and had been feeling unwell. Ako is here performing a rite with a gourd of beer, bringing the woman's illness, and the health of the woman's daughters-in-law and children (standing behind) to the attention of the Power Mutia agok. Asek had been asked by Ako to set up this shrine some months before when he himself had fallen ill. The occasion of this photograph was a visit by Buxton and Ako to visit Asek to continue questioning the Power Mutia agok. Asek was delayed by another diagnosis elsewhere, but eventually joined them at midday the next day, shortly before this image was taken. He may well be one of the men visible to the left of Ako.
Photographer:
Jean Carlile Buxton
Date of Photo:
1952
Region:
[Southern Sudan] Bahr el Jebel Jarra
Group:
Mandari Jarra
NamedPerson:
Ako Akurukway, Asek
PRM Source:
Ronald Carlile Buxton via Institute of Social and Cultural Anthropology
Acquired:
Donated 1988
Other Owners:
Jean Buxton Collection
Class:
Ritual , Ritual , Religion , Shelter
Keyword:
Shrine , Building House
Event:
Ceremony
Documentation:
See Related Documents File. Buxton field notebooks in Tylor Library.
Other Information:
The occasion and events of the visit of Jean Buxton and Ako Akurukway to Asek's homestead are described in detail as 'Seance no.1. Treatment of Asek of Jarra Clan' in Jean Buxton's Religion and Healing in Mandari (Oxford, Clarendon Press 1973), pages 78-86. In particular she notes (p.80) that 'Ako then performed a preliminary rite. Asek's mother, who had been indisposed, was seated by the shrine and Ako passed a gourd of beer, brewed for the occasion, round her head and then poured a libation by the base of the shrine. He addressed Mutia agok, drawing attention to the old woman, her daughters-in-law, and the latter's children.' [Chris Morton 9/3/2005] Buxton has drawn a circle around Asek's mother on the photograph, perhaps as an aide-memoire in interpreting the significance of her within the particular rite being conducted. On the print reverse, there is evidence that the print was once part of an album. [Chris Morton 9/3/2005]
Recorder:
Christopher Morton 9/3/2005 [Southern Sudan Project]