Bongo grave with carvings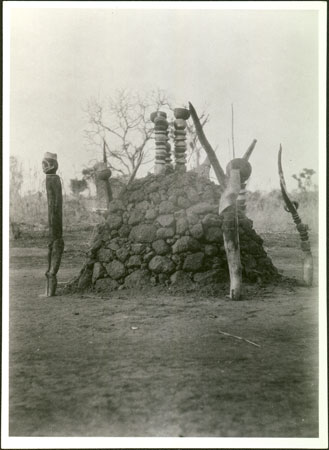 103 x 75 mm | Print gelatin silver
Date of Print:
Unknown
Previous PRM Number:
EP.B.41
Previous Other Number:
66 4
Accession Number:
1998.343.37.2
Description:
A stone mound near a hut erected over a man's grave (dodo) with three carved posts surmounting the top tallying twenty elephants killed in the hunt by the deceased, placed as a means of honouring him. Around the mound are five more carved posts (some with arrows stuck in them); the first a likeness of the deceased, the next clockwise a forked (horn-shaped) post set up by his son-in-law yet tallying his own buffalo kills. The next (barely visible) is a likeness of the deceased with a tally of two hippo killed, then a forked post tallying six rhino and lastly a forked post tallying five buffalo.
Photographer:
Edward Evan Evans-Pritchard
Date of Photo:
1929 March
Region:
[Southern Sudan] Warab Tonj Koki
Group:
Karakiti Bongo
Publication History:
Contemporary Publication - Reproduced as Plate IVb (facing page 40) of E. E. Evans-Pritchard's article "The Bongo" (
Sudan Notes and Records
Vol.XII Part I 1929) with the caption 'Bongo grave surrounded by human figures and hunting tally-posts. Note arrows sticking in posts.' Also reproduced as Plate XLIXb (facing page 474) in C.G. & B. Seligman's
Pagan Tribes of the Nilotic Sudan
(London, Routledge 1932), with the caption 'Bongo grave'. [Chris Morton 20/1/2004]
PRM Source:
Edward Evan Evans-Pritchard
Acquired:
Donated 1966
Other Owners:
E. E. Evans-Pritchard Collection
Class:
Death , Carving
Keyword:
Grave , Grave Marker , Memorial
Primary Documentation:
PRM Accession Records - Accession Book Entry [p. 98] 1966.27 [1 - 24] G[ift] PROFESSOR E. E. EVANS-PRITCHARD; INST. OF SOCIAL ANTHROPOLOGY, 51 BANBURY RD. OXFORD - 1966.27.19 - S. SUDAN, DARFUNG. VARIOUS TRIBES. Box of negatives in envelopes, [1 - 242] & 1966.27.20 - Box of prints of these negatives [refers to object 1966.27.19] [1 - 242], in envelopes.

Notes on print/mount - "66/4"
Other Information:
Ethnographic context - The Karakiti are identified as a Bongo sub-group living 'to the east of Tonj, in the neighbourhood of Koki to the south of Miniobolo'. This group seem to be slightly detached from the main group on the Wau-Tonj road, living amidst Dinka groups. ("The Bongo" (Sudan Notes and Records Vol.XII Part I 1929, page 14). [Chris Morton 13/1/2004] In "The Bongo" (Sudan Notes and Records Vol.XII Part I 1929, page 38) E. E. Evans-Pritchard notes that 'I was told that the posts were not carved to magnify the hunting deeds of the dead, and not to give just a general idea of his kills, but are an actuall tally, correct in numbers and in species. Thus at one grave which I saw in the country of the Karatiki tribe there were three carved poles surmounting the heap of stones over the grave. The carvings on these poles represented a tally of twenty elephants. Round the grave, planted into the earth, were five other posts. Walking round the grave clockwise the first post which one met was carved in the likeness of the dead, having bead eyes, and the face being stained blue with a dye bought from an Arab merchant, and the body being painted red with red ochre. Next came a carved branching pole erected by the son-in-law of the dead man in honour of his wife's father, but upon which he recorded his own tally of buffaloes. Then came another carved post in the likeness of the dead, but with carvings also which represented two hippopotami killed. Next came a post (do masha) showing six carvings, each representing a rhinoceros. Lastly, there was a post (do kobi) showing a bad of five buffaloes.' [Chris Morton 14/1/2004]
Recorder:
Christopher Morton 13/1/2004 [Southern Sudan Project]