Dinka man with animal trap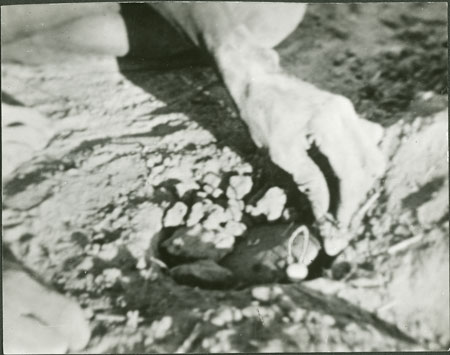 90 x 115 mm | Print silver , Selo paper
Date of Print:
1933 - 1934
Previous PRM Number:
B.7.3.3
Previous Other Number:
3
Accession Number:
1998.207.3.3
Description:
A close up of a Dinka man setting an animal trap (dang) into the earth on a game path. The Powell-Cotton's collected this trap, perhaps from the individual in this image, on the 3rd May 1933, and donated it to the Pitt Rivers Museum. It is likely that this print is a still taken from the cine-film made by Powell-Cotton during this expedition.
Photographer:
Percy Horace Gordon Powell-Cotton
Date of Photo:
1933 May
Region:
[Southern Sudan] Warab Fanamweir
Group:
Dinka
PRM Source:
Percy Horace Gordon Powell-Cotton
Acquired:
Donated 1934
Other Owners:
Unknown
Class:
Hunting
Keyword:
Trap
Primary Documentation:
Notes on print reverse Ms pencil - "No 3. Dinka Animal Trap. Placing stones etc. on disc H before covering, Fanamweir, Sudan 1933"

PRM Accession Records - [p. 248] 1934 [insert] 8 [end insert] -
MAJOR P. H. G. POWELL-COTTON
, Quex Park, Birchington, E. Kent. Specimens collected by himself & Mrs Cotton, during hunting trips, 1933, viz: - From the
DINKA
tribe, FANAMWEIR & KORNUK, WHITE NILE [...] [insert] 11 [end insert] -
Dang
, trap for antelopes etc, a very powerful bow with torsion-string of hide, stick, noose of hide, etc. ib[idem] [FANAMWEIR] (2224).

Other Information - Fanamweir is now located in the administrative district of Warab in the Southern Sudan. Powell-Cotton made ethnographic films during his 1932-3 shooting expedition to southern Sudan; footage included a Dinka hunter setting a trap: "In a game track a
Dinka
hunter laid a noose and set its weighty spring-trap, formed like a bow strung with twisted hide" (see the description in Mrs Powell Cotton, "Village Handicrafts in the Sudan",
Man 34 (112),
pp 90-91).

Dang
(plural deng) is a Dinka word meaning bow (D.G. Beltrame 1880,
Grammatica e Vocabolario della lingua Denka,
p. 190 gives definition as 'arco, schioppo, lancia); Nebel defines the term
dhang,
pl.
dhèng,
as 'bow, rifle'
(Nebel 1979,
Dinka-English Dictionary,
p. 27). See also Schweinfurth 1873,
The Heart of Africa,
where
dang
is used to described a bow-shaped type of parry shield. The Nuer also use the word to describe a type of staff with curling ends, which may be related to this form [RTS 8/11/2004].
The PRM related documents contains details of a cine film 'some tribes of the Southern Sudan', taken by Powell-Cotton during this 1933 expedition, copies of which are now in the National Film and Television Archive and the Powell-Cotton Museum in Kent [RTS 14/3/2005].

Recorder:
Elizabeth Edwards 25/1/2002 Christopher Morton 22/6/2005 [Sudan Project]
Related Collections:
PRM 1934.8.11