Lango spear shaft making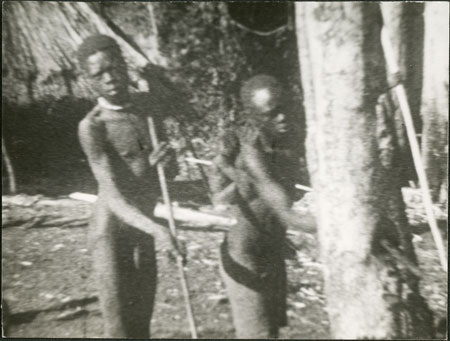 75 x 100 mm | Print silver
Date of Print:
1933 - 1934
Previous PRM Number:
B.7.3.10
Accession Number:
1998.207.3.10
Description:
A youth smoothing a spear shaft through a hole in a tree, one of a series of images relating to Lango spear-making. It is likely that this print is a still taken from the cine-film made by Powell-Cotton during a hunting expedition in the Imatong hills.
Photographer:
Percy Horace Gordon Powell-Cotton
Date of Photo:
1933
Region:
[Southern Sudan] Eastern Equatoria Mt. Imatong Lomuleng
Group:
Lango
PRM Source:
Percy Horace Gordon Powell-Cotton
Acquired:
Donated 1934
Other Owners:
Unknown
Class:
Weapon
Keyword:
Spear
Activity:
Manufacturing
Primary Documentation:
Notes on print reverse Ms pencil - "Closer view of smoothing in hole in tree. Lango Spear Shaft making at Lomaling Mt. Imatong, Sudan 1933"

Other Information - According to "African ethnonyms: index to art-producing peoples of Africa" by Daniel P. Biebuyck, Susan Kelliher and Linda McRae (G.K. Hall & Co.: New York, 1996), there are two different groups known as Lango, one from Sudan who speak an Eastern Nilotic language, and one from Kenya and Uganda who speak a Western Nilotic language. According to the catalogue cards, it is the Sudanese (Eastern Nilotic speaking) group which is referred to here [CW 23/3/2000].
Powell-Cotton made ethnographic films during his 1932-3 shooting expedition to southern Sudan; footage included Lango men cutting and making spear shafts, and a Lango potter at work (see the description in Mrs Powell Cotton, "Village Handicrafts in the Sudan",
Man 34 (112),
pp 90-91) [RTS 12/12/2003]. The PRM related documents contains details of this cine film, entitled 'some tribes of the Southern Sudan',copies of which are now in the National Film and Television Archive and the Powell-Cotton Museum in Kent [RTS 14/3/2005].

Recorder:
Elizabeth Edwards 25/1/2002 Christopher Morton 22/6/2005 [Sudan Project]