Acholi material culture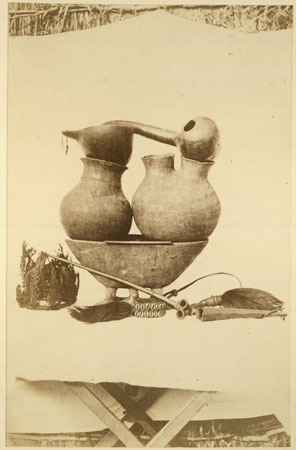 135 x 90 mm | Print albumen paper
MountDimension:
240 x 315 mm
Date of Print:
Unknown
Previous PRM Number:
B.3.1.29.a
Previous Other Number:
57 187
Accession Number:
1998.203.1.29.1
Description:
A display of a number of Acholi domestic objects set out on a table during Buchta's journey through Acholi country sometime in January 1879 en route to Bunyoro. The objects include pots (one with a double aperture), gourd vessels, a wooden bowl with stand (monoxylous), a pipe, feather headdress, fly whisk and cowrie-decorated arm band with hair attachment. They are displayed on a camp-style packable table with a large sheet backing.
Photographer:
Richard Buchta
Date of Photo:
1879 January
Region:
Northern
Group:
Acholi
Publication History:
Contemporary Publication - Richard Buchta,
Die Oberen Nil-Länder: Volkstypen und Landschaften
.
Dargestellt in 160 Photographien, nach der Natur aufgenommen von Richard Buchta.
(Berlin 1881. Verlag Von J. F. Stiehm)
Notes:
In H. B. Thomas' article 'Richard Buchta and Early Photography in Uganda'
Uganda Journal
Vol. 25, no. 1, 1960, p. 115, he notes that '...on 7th January 1879 he [Emin Pasha] records that, resting under a large tamarind tree... he came upon Herr Buchta with his baggage on his way to Fatiko. To this period may be reasonably attributed the photographs of Acholi types which appear in the latter's album and elsewhere.' [CM 16/6/2005]
PRM Source:
Unknown
Acquired:
Unknown
Other Owners:
Unknown
Class:
Vessel , Pottery , Narcotic , Tool , Clothing Headgear
Keyword:
Vessel Gourd , Vessel Pottery , Vessel Wood , Pipe , Fly Whisk , Headdress
Primary Documentation:
Notes on mount ms pencil - "57 Utensils of the Schuli negroes"
Notes on mount reverse ms pencil - "187"
Recorder:
Elizabeth Edwards 5/9/95 Christopher Morton 14/6/2005 [Sudan Project]