Acholi village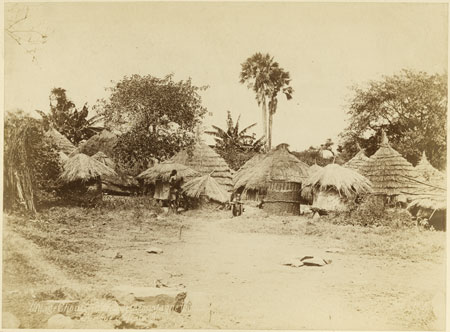 134 x 90 mm | Print albumen paper
MountDimension:
240 x 310 mm
Date of Print:
Unknown
Previous PRM Number:
B.3.1.24
Previous Other Number:
51 204
Accession Number:
1998.203.1.24
Description:
Looking towards the huts of an Acholi village at the foot of a hill, called by Buchta Choua (Chua or Shua) Hill, in Chua County of northern Uganda. The huts are closely spaced, mostly step-thatched, and smaller granaries (one unplastered unroofed wicker-work in the foreground) are positioned close to the huts. The presence of tall palms and banana nearby are evidence for good water supply at the foot of this hill. The image seems to have been taken sometime in January 1879 when Buchta travelled through Acholi country en route to Bunyoro.
Photographer:
Richard Buchta
Date of Photo:
1879 January
Region:
Chua County
Group:
Acholi
Publication History:
Contemporary Publication - Richard Buchta,
Die Oberen Nil-Länder: Volkstypen und Landschaften
.
Dargestellt in 160 Photographien, nach der Natur aufgenommen von Richard Buchta.
(Berlin 1881. Verlag Von J. F. Stiehm)
Notes:
In H. B. Thomas' article 'Richard Buchta and Early Photography in Uganda'
Uganda Journal
Vol. 25, no. 1, 1960, p. 115, he notes that '...on 7th January 1879 he [Emin Pasha] records that, resting under a large tamarind tree... he came upon Herr Buchta with his baggage on his way to Fatiko. To this period may be reasonably attributed the photographs of Acholi types which appear in the latter's album and elsewhere.' [CM 16/6/2005]
PRM Source:
Unknown
Acquired:
Unknown
Other Owners:
Unknown
Class:
Settlement , Shelter , Vegetation
Keyword:
Village , Building House
Primary Documentation:
In Negative - "Village Chouli au pied de la montagne Choua. Afrique Centrale"
Notes on mount ms pencil - "51 Schuli village at the mountain Schua"
Notes on mount reverse ms pencil - "204"
Recorder:
Elizabeth Edwards 5/9/95 Christopher Morton 14/6/2005 [Sudan Project]