Northern Larim bowl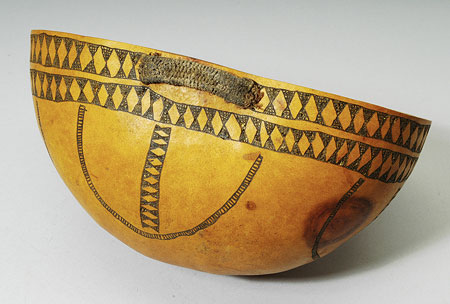 Other views of this artifact:
Accession Number:
1979.20.150
Country:
Sudan
Region:
[Southern Sudan] Eastern Equatoria Tiringot
Cultural Group:
Northern Larim
Maker:
Made by women [RTS 8/6/2005].
Date Made:
By 1979
Materials:
Gourd Plant , Charcoal , Plant Fibre
Process:
Carved , Hollowed , Dried , Decorated , Incised , Inlaid
Dimensions:
Ht = 160, rim ext. L = 313, W = 200; mouth int. L = 304, W = 172; handle L - 83.5, W = 17.5, th = 4.3 mm [RTS 8/6/2005].
Weight:
247.2 g
Local Name:
dowoch chinya kodetu [kudowoch chinyakodetu nalema]
Other Owners:
Purchased by Patti Langton for 75 piastres on 23rd March 1979 at Tiringot for the British Institute in Eastern Africa's Expedition to the Southern Sudan [RTS 12/5/2004].
Field Collector:
Patti Langton
PRM Source:
Patti Langton
Acquired:
Purchased 1979
Collected Date:
23 March 1979
Description:
Gourd food bowl consisting of a narrow rim that has a slightly rounded lip sloping down to the interior edge; this is constricted and slightly swollen at the centre of one side, with a projecting knob on the rim opposite, representing the base and neck of the original plant and producing an elongated, irregularly oval plan view. The bowl has a deep hemispherical body with convex sides and base, and a single horizontal loop handle just below the rim at the centre of one of the long sides, made from twisted brown plant fibre cord (Pantone 4655C), woven into a broad band, 4 rows wide, and sewn onto the gourd wall through pairs of holes at either end. The vessel was made by bisecting a gourd, scooping out the pulpy interior, drying the shell and removing the lighter coloured outer skin, a few traces of which remain below the rim on one side. The interior is a matt yellow colour (Pantone 7509C), with some black patches, while the exterior is a smooth orange colour (Pantone 7512C) with some random discolouration but also a more deliberate scorched circle with a dot in its centre. The exterior has also been decorated with a series of incised patterns inlaid with black charcoal. These consist of a broad band that runs around the circumference just below the rim, framed by horizontal lines and filled with a row of crosshatched triangles pointing up and down from the base and top lines respectively, to create a row of lozenge-shaped spaces between each pair of triangles. The pattern is interrupted by the handle on one side.
A similar but continuous band is repeated below. The remaining space is partially filled by narrow hatched bands, curving to enclose 4 semicircular areas that are evenly spaced around the lower walls. 3 of these contain a vertical band of crosshatched triangle pairs running down the centre, while the fourth has a vertical band of hatching, forming a stylised tree with 2 pairs of branches coming off from the sides. The vessel is complete, but the handle has broken away from the bowl wall on one side and there is some insect damage to the surface. It has a weight of 247.2 grams and is 160 mm high, with the rim measuring 313 by 200 mm across its outer edges, and 304 by 172 mm across its mouth; the handle is 83.5 mm long, 17.5 mm wide and 4.3 mm thick.

Purchased by Patti Langton at Tiringot for 75 piastres on 23rd March 1979 at Tiringot for the British Institute in Eastern Africa's Expedition to the Southern Sudan. This area was part of the Koyok clan.

This bowl is given the local name
dowoch chinya kodetu.
The collector states that
chinya kodetu
means 'handle', and
dowoch
means 'gourd. A similar gourd bowl in the group, 1979.20.140, is given the local name
kudowoch chinya kodetu nalema
(with
nalema
meaning 'decorated'). These bowls are used for eating from by men only. They are decorated by Larim women, who cut the patterns into the surface with a needle then rub charcoal over the top. This method of applying the decoration differs from that used by other cultures, such as the Dinka, where charcoal is used to mark out the designs, which are cut in with an iron needle then scored using a heated spear or knife blade (see 1979.20.91).

For bowls with similar handles, see 1979.20.140-141 (Northern Larim) and 1979.20.167 (Southern Larim); these have comparable decorative bands using pairs of crosshatched triangles, as does 1979.20.164 (also from the Southern Larim).

Rachael Sparks 17/8/2005.
Primary Documentation:
Accession Book Entry
- [p. 185] 1979.20 (.1 - 206) P[urchase] MISS PATTI LANGTON, DEPT. of ETHNOLOGY & PREHISTORY, OXFORD. Collection made by Patti Langton during the British Institute in East Africa's expedition to the Southern Sudan; Jan. - April 1979. The collection was made in three culture areas during the dry season. The amount paid for each object is listed if the information is known. In Jan. 1979 £1 is equivalent to 95 piastres (pt.) Sudanese. This documentation is based largely upon Patti's own list of objects and her notes on these. Sometimes objects included in the Pitt Rivers alootment of the collection do not appear on her list and have been added here. See Related Documents file as well. [p. 204] 1979.20.136 - 193 SOUTHERN SUDAN the LARIM The Larim live about 50 miles west of Kapoeta in the eastern corner of S. Sudan. They are a non-Nilotic pastoral people, living in permanent mountain villages. They are part of the Didinga-Longarim-Murle language group. They live in the Boya Hills - Boya is the Topasa (neighbouring group) name for the Larim, which is also used by the Administration. Longarim is the Didinga's name for them but they call themselves the Larim, and that is used here. [p. 205] The LARIM The collection was made in two parts. The "PL" labelled material was collected during Pat Langton's stay in a village in the Northern Larim area. The "∆" labelled material was collected by Jill Goudie, one of the archaeologists on the Expedition, from the base camp LARYOK, among the Southern Larim. Money is known among the Larim but it is used only for buying beads for women from Kapoeta, or for the few members of the group who would go to Juba. The women especially were more interested in exchange gifts of salt, cloth & soap. The Larim material is documented in three parts: a) General Larim pieces - no information as to which section of the Larim it comes from b) the "PL" Collection from the Northern Larim, from three of the eight Northern Larim clans c) the Southern Larim material collected by Jill Goudie, numbered "∆". 1979.20.149 - 154 NORTH LARIM/BOYA; KOYOK CLAN AREA, TIRINGOT VILLAGE; 23-3-79. [p. 208] 1979.20.150 Small decorated calabash plate,
dowoch chinya kodetu
. Similar to 1979.20.140, [1979.20] .141. L = 31.4 cm. Coll. no. PL 23. Cost 75 pt.
Additional Accession Book Entry [below accession number in red biro] - A5-F35-24.


Card Catalogue Entry
- There is no further information on the catalogue card [RTS 25/5/2004].


Pitt Rivers Museum label
- AFRICA, Sudan, Tiringot. NORTHERN LARIM/BOYA, Koyok clan area. Decorated gourd bowl. Coll. P. Langton, PL 23. 1979.20.150 [plastic coated label, tied to object; RTS 16/6/2005].


Written on object
- P.L. 23 [pencil, collector's mark]; S.SUDAN, NO. LARIM, P. Langton Coll. PL 23, 1979.20.150 [ink; RTS 8/6/2005].

Related Documents File -
1979.20 contains a typed packing list, which has been annotated; a typed list of objects arranged by Langton collection numbers and with pencil and biro annotations, and a handwritten list of objects by museum number, essentially repeating this information and annotated with PRM photo numbers in red. This handwritten list seems to be the direct source for the accession book
entry. This item appears in Langton's list under the heading 'Purchased in Koyok clan area, Tiringot village', as 'small decorated calabash plate,
DOWOCH CHINYAKODETU
75 pt'. Elsewhere in this list, on p. 6 entry PL 2, we are told that 'chinyakodetu' means 'handle' and 'dowoch' means gourd [RTS 12/1/2004].