Nuer shield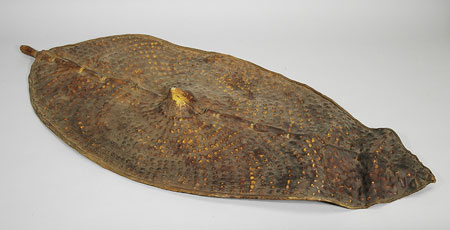 Other views of this artifact:
Accession Number:
1946.8.97
Country:
Sudan
Region:
[Southern Sudan] Wahda near Lake No
Cultural Group:
Nuer
Date Made:
By November 1923
Materials:
? Cattle Skin Animal , Animal Hide Skin , Wood Plant
Process:
Carved , Stained , Decorated , Impressed , Repaired (local)
Dimensions:
L wooden pole = 1372, diam shaft = 20; shield body L = 1275, W = 590, th at edge = 10 mm [RTS 3/8/2005].
Weight:
>1000 g
Other Owners:
Collected by W. Sherlock Lennon on 17th February 1923 [misread as 17th November 1923 when making the accession book entry], donated to the PRM by his sisters Kathleen Constance Averina Knowles and Mrs Cameron in August 1946 [RTS 26/8/2005].
Field Collector:
W. Sherlock Lennon
PRM Source:
Kathleen Constance Averina Knowles & Mrs Cameron
Acquired:
Donated August 1946
Collected Date:
17 February 1923
Description:
Shield made from a large piece of animal hide, possibly bullock, moulded to shape when wet. This consists of a roughly lentoid-shaped body with rounded top edge and curved sides that taper to a point at the base. The central part has been pushed outwards to form a conical boss with its apex slightly to one side, and the outer edges rolled over from behind to form a thickened rim. Pairs of slits have been cut down the central axis, allowing 15 loops to be pulled out from the surface and a central pole to be threaded through them; this provides both support and a handle, with the grip area lying directly below the hollow underside of the boss, allowing the hand to fit comfortably around the shaft. The skin would have been fitted over this pole while wet, with the loops tightening over the wood as they dried and fixing it securely in place. There are 2 shorter pairs of slots cut down this axis near the top of the shield, the function of which is not clear. The surface of the hide has been closely worked to give it a textured appearance, covering it with a series of small raised bumps that have been pushed up from the underside in repoussé technique, apparently using small pebbles while the skin was still soft. These knobs lie in rows radiating around the central boss, becoming simpler arcs and curves over the rest of the body.

The outer surface has been stained a dark purplish red colour (Pantone 497C), but the lighter yellow of the hide has worn through on the raised areas (Pantone 7509C); the surface is textured, covered with fine lines criss-crossing the surface. There are a couple of minor cut marks across the surface. The central strut has been carved from a single piece of light coloured wood with circular section, stained a reddish brown colour (Pantone 730C). This has a knob-shaped head with shaving marks are evident over the surface, and tapers to the butt, which has broken on one side. There is also some damage to one of the loops holding the wooden shaft; this has broken, and been replaced with a hide thong, looped over the shaft and then stitched in place on the outer face of the shield, as a local repair. The shield is otherwise complete, with a weight in excess of 1000 grams. The central pole has a length of 1372 mm and diameter of 20 mm; the shield body is 1275 mm long, 590 mm wide and 10 mm thick at the edges.

Collected by W. Sherlock Lennon on 17th February 1923, near Lake No, and donated to the PRM by his sisters Kathleen Constance Averina Knowles and Mrs Cameron in August 1946.


According to information provided for 1946.8.97, the impressed 'knob' decoration on these types of shields was made by hammering pebbles into the skin while it was still soft. See 1937.34.43 for a similar example, collected from the Nuer by Evans-Pritchard. The form is also found amongst the Dinka, also with raised knob decoration (see D. Plaschke & M.A. Zirngibl, 1992,
African Shields,
cat. 33, p. 50).

Rachael Sparks 30/9/2005.
Primary Documentation:
Accession Book Entry
[p. 143]- LADY KNOWLES, 3 BRADMORE ROAD, OXFORD & MRS. CAMERON. Specimens collected by their brother,
CAPT
MAJOR W.S. LENNON, from the NUER TRIBE, SUDAN, 1923. Labelled by G. R. CARLINE. Coll. 17 Nov. 1923. [p. 145] 1946.8.97 - WHITE NILE, near LAKE NO. Shield of ?bullock hide, pared down & decorated with small knobs in concentric circles all over surface. Made by hammering pebbles into skin while soft (information from Sir Francis Knowles). Threaded on stick. Dimensions of shield 4' 2 1/2" x 3' 11 1/2" at centre, narrowing to a point at both ends. length of stick 4' 5 1/2" (threaded through long axis of shield).
Additional Accession Book Entry [page facing 143] - Major W. S. Lennon was District Commissioner in the Sudan.


Card Catalogue Entry -
There is no further information on the tribes catalogue card [RTS 23/7/2004].


Pitt Rivers Museum label -
NUER shield WHITE NILE near L[ake] No. Coll. by Major W.S. Lennon 17 Feb. 1923. d.d. Lady Knowles & Mrs Cameron, 1946.8.97 [rectangular metal-edged tag, tied to object; RTS 3/8/2005].