Nuer shield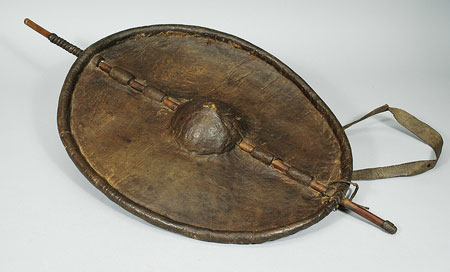 Other views of this artifact:
Accession Number:
1946.8.96
Country:
Sudan
Region:
[Southern Sudan] Wahda near Lake No
Cultural Group:
Nuer
Date Made:
By November 1923
Materials:
Cattle Skin Animal , Animal Hide Skin , Wood Plant , Iron Metal
Process:
Carved , Polished , Moulded , Perforated , Forged (Metal) , Hammered Bound Tied Knotted Stitched
Dimensions:
Wooden stick L = 885, diam = 13.5; W iron band = 6.5; shield body L = 605, W = 455, th edge = 17; carrying strap W = 31.2, th = 1.2 mm [RTS 17/1/2005].
Weight:
>1000 g
Other Owners:
Collected by W. Sherlock Lennon on 17th February 1923 [misread as 17th November 1923 when making the accession book entry], donated to the PRM by his sisters Kathleen Constance Averina Knowles and Mrs Cameron in August 1946 [RTS 26/8/2005].
Field Collector:
W. Sherlock Lennon
PRM Source:
Kathleen Constance Averina Knowles & Mrs Cameron
Acquired:
Donated August 1946
Collected Date:
17 February 1923
Description:
Shield made from a piece of bullock's hide, shaped when wet. This consists of an oval body with a raised conical boss at the centre, and a slightly irregular surface recessed from the outer edge which has been cut straight and rolled over itself to form a raised, rounded border. The hide is a dark brown colour (Pantone 439C), with some tufts of orangey to reddish brown hair over the surface; the underside has not been well cleaned and numerous hair tufts remain here also. A series of cuts have been made in a line down the centre of the shield, to create a series of six loops through which a round sectioned wooden stick has been threaded to act as a back support. Where the stick passes behind the central boss this also serves as a handle grip. The stick has been cut flat at either end and the reddish brown surface polished (Pantone 7517C). It extends above the top and bottom edges of the shield; the upper exposed area has a broad groove partially cut just below the top, while the body below is decorated with an iron strip with raised ridge down its centre, wound in a spiral around the wood. A second, shorter iron band is wrapped around the opposite end of the stick, just above its base. The shield has also been provided with some hide loops for carrying and suspension. One small loop has been tied around the central handle area; a second loop is tied around the stick and shield body near its lower edge, while a third, much larger hide strip is fastened to the back strut on either side of the handle area. This has been formed from at least 2 separate pieces sewn together using hide thongs. The object is complete, but the surface of the iron has begun to corrode and is now a dull gray colour (Pantone 412C), while the hide carrying strap is damaged in areas. The wooden stick is 885 mm long and measures 13.5 mm in diameter; the longer iron band is 6.5 mm wide. The shield body is 605 mm long, 455 mm wide, and 17 mm thick at the edges, and the carrying strap is 31.2 mm wide and 1.2 mm thick.

Collected by W. Sherlock Lennon near Lake NO on 17th February 1923 and donated to the PRM by his sisters Kathleen Constance Averina Knowles and Mrs Cameron in August 1946.


Dinka shields are somewhat similar in design, with an oval body with raised boss at the centre, threaded down the length with a wooden pole. For a series of photographs showing that type and its manufacture, by soaking the hide in water, pegging it out to stiffen and dry with the central pole in place, then trimming the edges to shape, see J. Ryle, 1982,
Warriors of the White Nile, the Dinka,
p. 49.


This object is currently on display in the Upper Gallery, case 26A.

Rachael Sparks 30/9/2005.
Primary Documentation:
Accession Book Entry
[p. 143]- LADY KNOWLES, 3 BRADMORE ROAD, OXFORD & MRS. CAMERON. Specimens collected by their brother,
CAPT
MAJOR W.S. LENNON, from the NUER TRIBE, SUDAN, 1923. Labelled by G. R. CARLINE. Coll. 17 Nov. 1923. [p. 145] 1946.8.96 - WHITE NILE, near LAKE NO. Shield of bullock hide, 2 ft x 1 1/2 ft. threaded with stick through long axis. Length of stick 2' 10 1/2". bound with heavy [insert] spiral [end inert] band of iron below shield. With carrying strap.
Additional Accession Book Entry [page facing 143] - Major W. S. Lennon was District Commissioner in the Sudan.


Card Catalogue Entry -
There is no further information on the tribes catalogue card [RTS 23/7/2004].


Old Pitt Rivers Museum label -
NUER shield, WHITE NILE near L. No. Coll. by Major W.S. Lennon 17 Feb. [sic] [...] 23. d.d. Lady Knowles & Mrs Cameron. 1946.8.96 [rectangular metal-edged label in fragments, now stored in RDF; note error in collection month]; AFRICA, Sudan, Near Lake No, NUER. Bullock hide shield. Coll. W. Sherlock Lennon 1923, donated 1946. 1946.8.96 [plastic coated label, tied to object; RTS 18/5/2005].