Nuer axe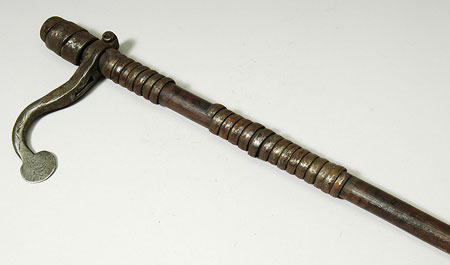 Other views of this artifact:
Accession Number:
1946.8.94
Country:
Sudan
Region:
[Southern Sudan] Wahda near Lake No
Cultural Group:
Nuer
Date Made:
By November 1923
Materials:
Wood Plant , Iron Metal
Process:
Forged (Metal) , Hammered , Perforated , Riveted , Carved , Stained? WoundDecoratedIncisedSocketed
Dimensions:
Total L = 1031 mm; handle at top, W = 27 mm, th = 26.5 mm; at centre, W = 17.5, th = 16.8 mm; axehead L = 132.2, blade end W = 27.2, th = 1.5 at edge; body W = 10.6, th = 7 mm; rivet diam head = 8.7 mm [RTS 21/9/2004].
Weight:
640.9 g
Other Owners:
Collected by W. Sherlock Lennon on 17th February 1923 [misread as 17th November 1923 when making the accession book entry], donated to the PRM by his sisters Kathleen Constance Averina Knowles and Mrs Cameron in August 1946 [RTS 26/8/2005].
Field Collector:
W. Sherlock Lennon
PRM Source:
Kathleen Constance Averina Knowles & Mrs Cameron
Acquired:
Donated August 1946
Collected Date:
17 February 1923
Description:
Axe consisting of a wooden handle with circular section, rounded at the top and cut flat at the base; the body is slightly irregular in shape following the natural form of the parent branch, and may have been stained its current reddish brown colour (Pantone 476C). An iron axehead has been hafted just below the top of the shaft. This is an unusual shape, and looks more ceremonial than functional. It is made from a narrow rectangular bar, the back of which has been split into two arms that form a circular socket to fit around the shaft, extending beyond this on the other side to form two short perforated lugs that have been riveted together with a circular rod, topped with a thick, disc-shaped head. This head has two circular holes visible across its surface, one of which is filled with a dark gray material, possibly another metal pin. On the other side of the handle, the body there is a short horizontal bar across the front, with the two arms tapering in beyond this to become a solid body, leaving a triangular void between them. From here, the body has curved rather than flattened faces, and has been bent to form an arc with the tip of the axe hanging down; this has been hammered flat to form a splaying, circular disc at its end. The lower edge of this disc has been sharpened, and forms the cutting face of the object. The sides of the axehead have been decorated with a running zigzag, made from a series of lightly incised lines chiselled into the surface.

Above the axehead, a thick rectangular iron strip with tapering ends has been wound around the handle; a thinner strip with straight cut ends have been wound directly below, with the two strips helping to anchor the axehead in place. 2 longer, similar strips decorate the handle, in one section immediately below and another around the lower part. The latter strip is in good condition, and currently a metallic gray colour (Pantone 421C); the other strips have corroded surfaces, as does the axehead itself. A final, short strip of iron with tapering ends has been wound in a spiral around the handle butt. The object is complete; there are some marks on the upper shaft that suggest the iron-bound area may have originally extended further down this section than it currently does. As the end of that strip does not appear broken, it was probably once more flexible than at present, and able to be moved up and down the shaft. The axe has a weight of 640.9 grams, and is 1031 mm long. The handle is 17.5 mm wide and 16.8 mm thick at the centre of the shaft, and 27 mm wide and 26.5 mm thick at its iron-bound top. The axehead is 132.2 mm long, with the blade being 27.2 mm wide and 1.5 mm thick, and the narrow rounded body section 10.6 mm wide and 7 mm thick. The rivet head has a diameter of 8.7 mm.

Collected by W. Sherlock Lennon on 17th February 1923, near Lake No, and donated to the PRM by his sisters Kathleen Constance Averina Knowles and Mrs Cameron in August 1946.

For similar axes, see 1946.8.91-93, all Nuer and collected by Lennon at the same time.

This object is currently on display in the Lower Gallery, case 60A.

Rachael Sparks 30/9/2005.
Primary Documentation:
Accession Book Entry
[p. 143]- LADY KNOWLES, 3 BRADMORE ROAD, OXFORD & MRS. CAMERON. Specimens collected by their brother,
CAPT
MAJOR W.S. LENNON, from the NUER TRIBE, SUDAN, 1923. Labelled by G. R. CARLINE. Coll. 17 Nov. 1923. [p. 144] 1946.8.94 - Axe. hooked iron blade ending in small flat disc. decorated with zigzag incised line. Wooden shaft bound with two spiral iron bands below blade & one at butt end (for 9 1/2" from butt). Length 3' 5", blade 4". same data [WHITE NILE near LAKE NO].
Additional Accession Book Entry [page facing 143] - Major W. S. Lennon was District Commissioner in the Sudan.


Card Catalogue Entry
- There is no further information on the tribes catalogue card [RTS 23/7/2004].


Old Pitt Rivers Museum label -
NUER TRIBE WHIT NILE NEAR L[AKE] NO. Coll. by Major W.S. Lennon 17 Nov. 1923. d.d. Lady Knowles & Mrs Cameron [rectangular metal-edged tag, tied to object, RTS 21/9/2004].


Written on object
- NUER, NEAR L[AKE]. NO, WHITE NILE. Coll. by Major W.S. Lennon, 17 Feb. [sic] 1923. d.d. Lady Knowles and Mrs Cameron. 1946.8.94 [RTS 21/9/2004].