Nuer axe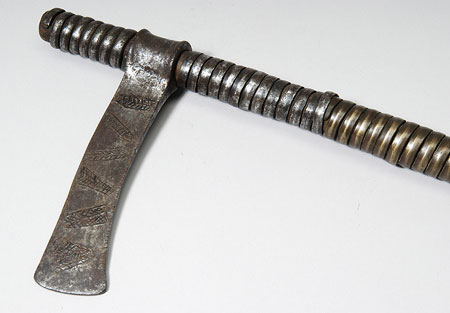 Other views of this artifact:
Accession Number:
1946.8.92
Country:
Sudan
Region:
[Southern Sudan] Wahda near Lake No
Cultural Group:
Nuer
Date Made:
By November 1923
Materials:
Iron Metal , Wood Plant , Brass Metal , Copper Metal
Process:
Forged (Metal) , Hammered , Socketed , Carved , Wound , DecoratedIncised
Dimensions:
Total L = 1073 mm; axehead L = 152, W = 36.7, th = 4 mm; butt spike L = 120, W = 20.5, th = 20 mm; handle W = 16.5, W with binding = 21.5 mm; binding W = 5 to 7 mm, narrow strip W = 1.5 mm [RTS 22/10/2004].
Weight:
856.5 g
Other Owners:
Collected by W. Sherlock Lennon on 17th February 1923 [misread as 17th November 1923 when making the accession book entry], donated to the PRM by his sisters Kathleen Constance Averina Knowles and Mrs Cameron in August 1946 [RTS 26/8/2005].
Field Collector:
W. Sherlock Lennon
PRM Source:
Kathleen Constance Averina Knowles & Mrs Cameron
Acquired:
Donated August 1946
Collected Date:
17 February 1923
Description:
Axe consisting of a wooden handle, carved in a single piece with flat-cut top; the surface is a warm orangey brown (Pantone 731C). A narrow iron axehead with socketed base has been hafted onto the upper shaft. This has been made from a rectangular bar, the metal doubled over, leaving a circular socket with concave sides at the back, and then hammered and heated to form a single blade at the front. This has a rectangular section, and is nearly straight, with a very slightly convex curve to the upper edge, and concave curve to the lower edge; the blade end with the cutting edge has been hammered flat and is slightly convex. This has been decorated with incised patterns on both front and back faces, consisting of oblique single and double bands arranged in opposing directions along the length, and filled with either hatching or crosshatching. It is a metallic gray colour (Pantone 422C).

The wooden shaft has been wound round with a series of metal strips along its length; the ends of each strip tend to sit flush with the surface of the wood rather than being hammered into it. These consist of iron strips, immediately above and below the axehead; then brass (Pantone 872C), iron, brass, iron, copper (Pantone 876C) and iron strips, all of the same approximate width (between 5 to 7 mm) and with rectangular sections. The final surviving strip is made of brass, is much narrower (1.5 mm in width) and more square in section. Below this, there is a area around 235 mm in length where the wood is exposed; marks on the surface suggest this was originally bound with the broader type of metal strip or strips. The end of the handle has been fitted with a cylindrical iron butt spike, made from a thick sheet wrapped around the wood with the long sides just touching at the top, and meeting lower down where they have been hammered together and heated so the seam is almost invisible at the base; this tapers to a point at the end. The axe is complete, except for the missing metal binding, with minor surface corrosion of the metal in places. It has a weight of 856.5 grams, and is 1073 mm long. The axehead is 152 mm long, 36.7 mm wide and 4 mm thick, with a socket diameter of 29.5 mm. The handle has a diameter of 16.5 mm, and 21.5 mm when the metal binding is included; the butt spike is 120 mm long and 20.5 by 20 mm around the top.

Collected by W. Sherlock Lennon on 17th February 1923, near Lake No, and donated to the PRM by his sisters Kathleen Constance Averina Knowles and Mrs Cameron in August 1946.

For similar axes, see 1946.8.91 and 93-94, all Nuer and collected by Lennon at the same time.

This object is currently on display in the Lower Gallery, case 60A.

Rachael Sparks 30/9/2005.
Primary Documentation:
Accession Book Entry
[p. 143]- LADY KNOWLES, 3 BRADMORE ROAD, OXFORD & MRS. CAMERON. Specimens collected by their brother,
CAPT
MAJOR W.S. LENNON, from the NUER TRIBE, SUDAN, 1923. Labelled by G. R. CARLINE. Coll. 17 Nov. 1923. [p. 144] 1946.8.92 - Axe. iron blade of shape similar to 1946.8.91. shaft bound with iron, brass & copper bands except for 1 ft. towards butt end. Iron spike (socketed) at butt. Length 3' 6 1/4", blade 5". same data [= WHITE NILE, near LAKE NO].
Additional Accession Book Entry [page facing 143] - Major W. S. Lennon was District Commissioner in the Sudan. [page facing 144] - 1946.8.92 No. given. 2 6 1998.


Card Catalogue Entry
- There is no further information on the tribes catalogue card [RTS 23/7/2004].


Old Pitt Rivers Museum label -
NUER TRIBE, WHITE NILE, near L[ake] NO. Coll. by Major W.S. Lennon, 17 Nov. 1923. d.d. Lady Knowles & Mrs Cameron [RTS 22/10/2004].


Written on object -
NUER, near L. NO, WHITE NILE. Coll. by Major W.S. Lennon, 17.1.1923 [RTS 22/10/2004; Note collection month differs from that given in accession book and on label].