Acholi arm ornament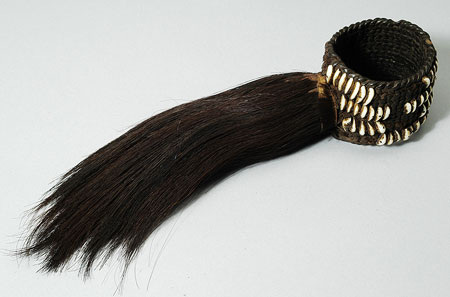 Other views of this artifact:
Accession Number:
1940.7.097
Country:
Sudan
Region:
[Southern Sudan] [Al Istiwa'iyah] [Equatoria] Bahr el Jebel Eastern Equatoria ?Western Equatoria [Lamarite]
Cultural Group:
Acholi
Date Made:
By 1940
Materials:
Animal Leather Skin , Animal Hair , Plant Fibre , Cowrie Shell , Bead
Process:
Perforated , Plaited , Stitched , Knotted , Beadwork
Dimensions:
External Max. diam. band = 90 x 85.5, internal diam. = 70 x 67.5; band W = 75.3, th = 5.3; cowrie fragment L = 11, W = 6, diam hole = 1 to 1.5 mm; leather strips W = 10; hair tassel L = 290, W = 66, th = 57.5 mm [RTS 8/3/2005].
Weight:
249.2 g
Other Owners:
Samuel P. Powell
Field Collector:
Samuel P. Powell
PRM Source:
Samuel P. Powell
Acquired:
Loaned July 1940
Collected Date:
By 1940
Description:
Amuletic ornament consisting of a broad arm band with rectangular section, slightly oval in plan view; one side bows out slightly. This has been made from 8 horizontal sections, each composed of 2 rectangular leather strips that have been perforated along their lengths and interwoven to create a herringbone effect. These sections were sewn together using a fine cord, possibly made of dark brown plant fibre, now somewhat greasy and probably not its original colour. The leather is also dark brown (Pantone black 7C) with a glossy surface in places. The outer face was then further decorated with the addition of four rows of white cowrie shell fragments, arranged vertically. Each fragment represents half a cowrie back, with the curved surface facing outwards and the puckered lip laying close to the leather surface. These were pierced through their width, and then sewn in place using horizontal fibre stitches. Traces of these stitches suggest the shells originally covered the entire surface of the armlet, but many of them have since been lost, leaving only 52 remaining. The armlet was also provided with a long tassel, made from narrow hide strips with long animal hair left on their outer face, probably from an animal's tail; the hair is a dark reddish brown colour (Pantone black 4C to 5C). These have been attached in a vertical row down the width of the arm band on one side, that is visible on the inside face as a thick seam from which the hair has been removed. Each strip has been pushed through the armlet body, to extend outwards from the side at right angles to it. The strips themselves are quite short, but the hair continues well beyond this point for decorative effect. A further hair covered strip was wrapped around the base of this tassel to hide the place where the pieces emerge from the armlet body, and knotted closed. Apart from the missing beads, the armlet is complete, and has a weight of 249.2 grams. The arm band has an external maximum diameter of 90 by 85.5 mm, and an internal diameter of 70 by 67.5 mm; the band is 75.3 mm wide and 5.3 mm thick. A typical cowrie fragment is 6 mm wide and 11 mm long, while the holes through their bodies have a diameter of 1 to 1.5 mm. The strips that make up the arm band are 10 mm wide; the hair tassel is 290 mm long, 66 mm wide and 57.5 mm thick.

Collected by Samuel P. Powell before 1940 from a place called Lamarite, in the former Equatorial Province - now subdivided into t
he modern administrative districts of Western Equatoria, Bahr el Jebel, and Eastern Equatoria.
It was loaned to the Pitt Rivers Museum in 1940.


This armlet was worn by men; similar examples are illustrated by M. Trowell & K.P. Wachsmann, 1953,
Tribal Crafts of Uganda
on pl. 54C. They discuss the type on p. 218, where it is attributed to the Kakwa, Madi, Teso, Karamoja, Alur and Acholi, and said to usually be made of goat hair, or more rarely, giraffe tail hair. The shells are sometimes replaced by beads or button. Although the Pitt Rivers Museum example is recorded as being an amulet, similar material elsewhere is not assigned the same function, and it is possible that the museum records resulted from a misreadiing of the word 'armlet' in the original documentation.

Rachael Sparks 14/9/2005.
Primary Documentation:
Accession Book Entry
[Loans II, p. 308] - ESTATE OF S.P. POWELL, C/O N.H. HASLAM, Esq. Manager, Westminster Bank, Stony Stratford, Bucks. Collected by himself. Data from his labels and notes. [p. 314] From the ACHOLI TRIBE, EQUATORIAL PROVINCE, SUDAN. [p. 315] 1940.7.097 - Amulet [sic], worn by men at LAMARITE. (broad armlet of plaited leather with sections of cowry shell, & tail of hair).


Card Catalogue Entry -
A.E. SUDAN, EQUATORIAL PROVINCE, LAMARITE. 1940.7.097. Amulet [sic], worn by men at LAMARITE. Brown armlet of plaited leather with sections of cowry shell and tail of hair. S.P. Powell coll. Lent by his Executors [RTS 28/1/2004].


Related Documents File
- Appears on undated typed list: "Acholi amulet [sic] worn by the men at Lamarite". List is annotated by hand on back: "List of Curios" and "Far from complete" [RTS 16/12/2003].


Pitt Rivers Museum label
- Amulet [sic]. Worn by men at Lamarite. ACHOLI. S.P. POWELL [Brown luggage label, tied to object; RTS 8/3/2005].