Acholi piece apron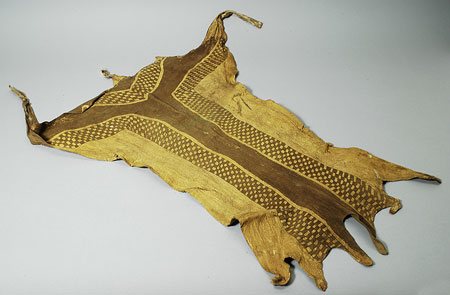 Other views of this artifact:
Accession Number:
1940.7.096
Country:
Sudan , ?Uganda
Region:
[Southern Sudan] [Al Istiwa'iyah] [Equatoria] Eastern Equatoria [?Jebel] Imatong Agoro
Cultural Group:
Acholi
Date Made:
By 1940
Materials:
Animal Hide Skin , Goat Skin Animal? , Animal Hair , Plant Fibre
Process:
Perforated , Decorated , Repaired (local) , Stitched
Dimensions:
L = 850, W across top ties = 1000, across centre = 322, across lower corners = 480 mm [RTS 9/3/2005].
Weight:
235.2 g
Local Name:
bongor
Other Owners:
Samuel P. Powell
Field Collector:
Samuel P. Powell
PRM Source:
Samuel P. Powell
Acquired:
Loaned July 1940
Collected Date:
By 1940
Description:
Apron made from a single piece of supple animal hide, possibly goatskin. This seems to represent an entire hide, and would have been worn upside down with the tail end of the animal at the woman's waist, and the neck and foreleg sections hanging from the base. It has a narrow body that widens to either end. At the centre of the top edge there is a small tongue of hide with a section of black and white animal hair preserved at the tip, which represents the remains of the animal's tail. This is flanked by 2 short triangular tabs, then the hide tapers along the back legs, which seem to have been used as ties to fasten the apron in place. One of these ties has only minor traces of hair on the surface, but the other remains quite hairy. The body has concave sides that flare out to a jagged lower edge, where parts of the front legs and the animal's neck pieces are visible as tapering tabs of skin. A few tufts of hair have also been left on the legs here. There are a few holes visible near the edges of the hide. A group of 3 large and 2 small slits at the base of the upper ties may be deliberate, and somehow used in fastening the garment. A large hole further down this side and another almost directly opposite it on the other edge may be accidental. Finally, there is a small, very neat hole through the tip of the other tie that may be related to display. The outer surface of the hide has been decorated, using a method that cuts into the surface and exposes the darker brown colour of the hide (Pantone 462C) to contrast with the natural yellowish brown of the top layer (Pantone 7508C). The decoration consists of a solid brown triangle pendant at the top, below the short tail tuft; below this there are 2 narrow reserved bands of yellow in a v-shape, and between them, a thicker band of checkerboard design with alternating brown and yellow squares. Below this is a large brown Y-shaped band of solid brown, framed on its outer edges by a further band of reserved yellow then a thick checkerboard band. This design has been well executed, although there are some errors visible, including one chequer square that was sketched out but not cut down to fill it with brown, some misplaced lines in blocking out other areas of the checkerboard, and some distorted squares where their size has been stretched or shrunken to fill the available space. There is also an area near the 2 side holes where it looks as though the craftsman began to add a checkerboard element, but found the skin too thin and abandoned the attempt, perhaps causing this damage in the process. The garment has been repaired locally in 6 different places, using a twisted plant fibre thread. It is otherwise complete, with some stains on both surfaces from an unknown green substance, as well as some red ochre, and with a long crease running down the centre where it has been folded. It has a weight of 235.2 grams, and is 850 mm long, measuring 1000 mm across the top edges, including the ties, 322 mm across the centre, and 480 mm across its lower edge.

Collected by Samuel P. Powell before 1940 from a settlement called Agoro, in the South Imatong area. It is not completely clear which 'Agoro' is meant, as there are settlements of this name both in the administrative district of Eastern Equatoria, Southern Sudan, and just inside the Uganda border, either of which could be considered to be part of the Jebel Imatong area. It was loaned to the Pitt Rivers Museum in 1940.

This apron was worn by women; Powell recorded its Acholi name as
bongor.
However he also used this term to describe clothing worn by other African groups, including 'the 'Banana tribe' (see accession number 1940.7.0222) and the Bari (1940.7.012-013), so it is not clear where the term originated.

Rachael Sparks 14/9/2005.
Primary Documentation:
Accession Book Entry
[Loans II, p. 308] - ESTATE OF S.P. POWELL, C/O N.H. HASLAM, Esq. Manager, Westminster Bank, Stony Stratford, Bucks. Collected by himself. Data from his labels and notes. [p. 314] From the ACHOLI TRIBE, EQUATORIAL PROVINCE, SUDAN. [p. 315] 1940.7.096 - Woman's leather skirt (
bongor
), check pattern formed by cutting away part of skin. Fr[om]. AGORO. S. IMATONG.


Related Documents File
- Appears on undated typed list: "Acholi woman's checked leather Bongor, from Agoro, S. Imatong". List is annotated by hand on back: "List of Curios" and "Far from complete" [RTS 16/12/2003].


Pitt Rivers Museum label
- Woman's leather garment,
bongor
, ACHOLI, Agoro, S. Imatong, S.P. Powell [brown luggage tag, tied to object; RTS 9/3/2005].