Lotuko trumpet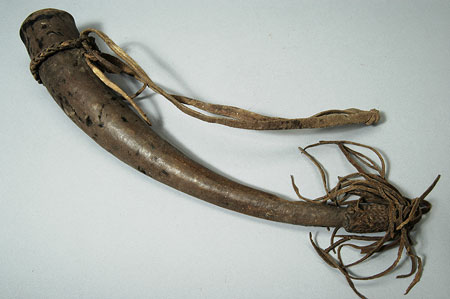 Other views of this artifact:
Accession Number:
1940.7.093
Country:
Sudan
Region:
[Southern Sudan] [Al Istiwa'iyah] [Equatoria] Eastern Equatoria ?Bahr el Jebel
Cultural Group:
Lotuko [Otuho]
Date Made:
By 1940
Materials:
Elephant Tooth Ivory Animal , Animal Hide Skin , Animal Tail , String , Plant Fibre
Process:
Carved , Hollowed , Perforated , Covered , Plaited , Twisted Tied
Dimensions:
L = 577, embouchure L = 23, W = 12, bell mouth external L = 61, W = 55.3, internal diam = 54 by 49; hide band W = 10, th = 3.8, carrying strap W = 8.5, th = 2.4 mm [RTS 7/12/2004].
Weight:
429.1 g
Other Owners:
Samuel P. Powell
Field Collector:
Samuel P. Powell
PRM Source:
Samuel P. Powell
Acquired:
Loaned 1940
Collected Date:
By 1940
Description:
Side-blown trumpet carved from an ivory tusk, pointed at one end and tapering out to an oval bell mouth at the other, with the body following the natural curvature of the parent material, but with an angular ridge carved along the back, convex edge for most of its length, disappearing just before either end. An oval embouchure has been cut into the upper, rounded, concave face, with the wind way cut at an oblique angle into the body of the trumpet. The body is solid immediately below this point, and hollowed out above it. The entire surface of the object, excepting the pointed tip and interior walls, has been covered with a sheath of animal hide, which has patches of black hair still present over the surface. This has no seam for much of its length and must have been cut from an animal's tail. It has been shrunken in place while wet, and fits tightly over the ivory; there is marked use-wear in places where the object was normally held. An oval hole has been cut out to expose the embouchure; there is a cut seam down the opposite side to this, the two sides of which have been stitched together using a length of twisted 2-ply string. This has a greasy surface, and could be either coated hide or sinew. 2 pairs of slits have been cut near the wider end, and a yellow hide strap passed through to act as a carrying loop. This strap has been made from 2 separate strips. Each was passed through the cut slit, and secured at its base by passing the lower loose end through a slot cut in its own body, and pulling this tight - creating a knot that is too large to pass through the slit above. The strips then continue upwards, meeting at the top where they are fitted together using a similar slotted technique. This carrying strap is further secured by a plaited hide band, fixed to one of the loose strap ends by a single strip, which is then woven with a partner into a herringbone design, based on the principle of having two strips with numerous perforations along their lengths, woven in and out of one another. This band continues around the circumference of the upper part of the trumpet, and sits just above the section where the carrying strap is attached.

The proximal end of the trumpet is covered with a decorative hide tassel. This has been made from twisted 2 ply fibre string, tied through a hole in the hide covering, and bound several times around its circumference, linking together a series of plaited hide bands, made to a herringbone design achieved by taking 2 narrow strips with numerous slits cut down their bodies, and weaving them in an out of one another. These strips divide where the ivory body ends into their component parts, which hang down from the end of the trumpet as tassels. Just above this point, the string emerges from underneath the plaiting, to be wound a further 3 to 4 times around the body and then tied in place.

The object is complete but cracked down its length, and there is some fraying to some of the tassel lengths. The ivory and fibre string are both a deep yellow colour (Pantone 7508C), while the hide covering is a mid brown (Pantone 462C), and the carrying strap is a yellowish brown (Pantone 7510C). It has a weight of 429.1 grams, and is 577 mm long. The embouchure has a diameter of 23 mm by 12 mm, while the bell mouth measures 61 by 55.3 mm across and has an internal diameter of 54 by 49 mm. The plaited hide band is 10 mm wide and 3.8 mm thick; the carrying strap is 8.5 mm wide and 2.4 mm thick.

Collected by Samuel P. Powell from the former Equatorial Province of Southern Sudan, and given on loan to the Pitt Rivers Museum in 1940. It was used in hunting, and could be described as a 'stopped' trumpet, as the body does not have a finger-hole at its proximal end. This has a different mouthpiece to side-blown trumpets such as 1886.1.522, as it does not have a hollow proximal end and so a different technique is needed to blow into the instrument (Hélène La Rue, pers. comm. 14/1/2005).

Rachael Sparks 14/9/2005.
Primary Documentation:
Accession Book Entry
[Loans II, p. 308] - ESTATE OF S.P. POWELL, C/O N.H. HASLAM, Esq. Manager, Westminster Bank, Stony Stratford, Bucks. Collected by himself. Data from his labels and notes. [p. 314] From the LATUKA tribe, EQUATORIAL PROVINCE ANGLO-EGYPTIAN SUDAN. 1940.7.093 - Hunting horn of ivory, bound with leather.
Additional accession book entry [page opposite 314] - number given HLR.


Card Catalogue Entry
- There is no further information on the tribes catalogue card [RTS 28/5/2004].

Related Documents File
- Appears on undated typed list: "Latuka hunting horn of ivory, bound with leather". List is annotated by hand on back: "List of Curios" and "Far from complete" [RTS 16/12/2003].


Pitt Rivers Museum label -
Hunting horn of ivory, bound with leather. LATUKA, E. of Upper Nile. S.P. Powell 1940.8.093 [brown luggage tag, tied to object; RTS 7/12/2004].