Acholi male figure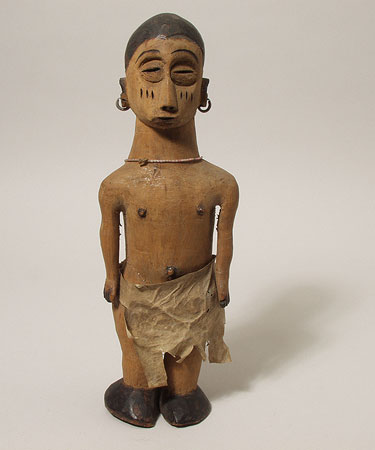 Other views of this artifact:
Accession Number:
1939.7.123
Country:
Uganda
Region:
Gulu District Gulu
Cultural Group:
Acholi
Maker:
Ajala
Date Made:
By 1939
Materials:
Wood Plant , ?Cotton Yarn Plant , ?Aluminium Metal , ?Tin Metal , Animal Hide Skin , Glass
Process:
Carved , Perforated , Burnt , Pyroengraved Pokerwork , Hammered , Bent StrungTied
Dimensions:
Max H = 335 mm
Weight:
750.5 g
Other Owners:
Made by an old Acholi man called Ajala in Gulu, and obtained by Armine Charles Almroth Wright; donated to PRM July 1939 [RTS 17/9/2004].
Field Collector:
?Armine Charles Almroth Wright
PRM Source:
Armine Charles Almroth Wright
Acquired:
Donated July 1939
Collected Date:
By 1939
Description:
Anthropomorphic figure carved from a single piece of wood in the form of a standing man, facing forward with arms held straight by sides, legs positioned slightly apart and feet flat on the ground, facing forwards. Most of the body is a warm orangey brown colour (Pantone 730C), with areas burnt black to show details of the hair, face, torso, hands and legs (Pantone black 7C). The figure has a slightly pointed head, with the edges of the hair delineated by incised arcs over the brow, curving above the ears and down to a point at the nape of the neck. This area has been burnt black but has no further detailing. Facial details have been marked using the technique of pyroengraved pokerwork. This includes two curving eyebrows burnt into the surface, above sunken oval eyes, defined by grooves around their edges and narrow, burnt, deep slots running horizontally across the middle. Below these there is a long triangular nose with two neat circular nostrils burnt into its underside, a pouting mouth with a short straight line burnt across the surface, and a small protruding chin. Cicatrisation marks have been added as a group of three vertical lines on each cheek. The ears stand proud from either side of the head, and are notched on the inside edge. Their interiors are deep, blackened hollows. A small hole has been burnt through the base of each ear, and fitted with two small white metal earrings that are probably made from either aluminium or tin (Pantone Cool Gray 1C). The appear to have been made from sheet metal, rolled into a rod and then bent into loops with the ends touching.

The figure has a thick neck, defined by a faint groove at its base. A short necklet has been hung around this and tied in a knot at the back. This has been made from twisted cotton yarn, strung with a series of 76 small cylindrical glass beads. Some of these are translucent and colourless; a few appear to have a colourless surface with a dark gray or black core (possibly from dirt along the thread hole); the remaining beads which are in the majority are a bright pink that has faded in patches to white (Pantone 190C).

The torso of the figure is cylindrical and only slightly modelled, with two nipples and a navel protruding from the surface and blackened around their bases, and male genitals carved below. The bottom is indicated by a narrow curving surface; the buttocks are not distinguished. The shoulders and arms are rounded, swelling out slightly at the elbows and with splaying hands that have flattened surfaces. Four long v-shaped grooves have been burnt into each hand to indicate the fingers. The legs are fairly plump, swelling out at the hips then tapering in towards two broad oval feet that slope down on all sides to a flat base. The tops of these have been burnt black. Around its waist, the figure wears a buff coloured hide loincloth or apron (Pantone 7506C). This has been cut to imitate the shape of a full hide, with outstretched leg sections; the top two corners have been tied to a two narrow strips of hide that are knotted together at the centre of the back.
The figure is complete and intact, although there are a few small holes in the apron. The surface of the wood seems to be covered with tiny flecks of either mica or salt. Carving marks are visible across much of the surface, which has been largely smoothed, except for inaccessible areas under the arms and between the legs. It has a weight of 750.5 grams, is 331 mm high, and measures 72.2 mm across the width of the head, 114 mm across the shoulders and 90.5 mm across the hips; the maximum thickness of the head is 73 mm. The earrings have diameters of 11.5 mm, and are 2.4 mm wide and 2.3 mm thick. A typical bead is 2 mm long and has a diameter of 1.1 mm, while the apron is 96 mm long at the front.

The figure was made by an old Acholi man called Ajala in the settlement of Gulu, and obtained by Armine Charles Almroth Wright sometime before 1939, when it was donated to the Pitt Rivers Museum.

For a female figure by the same craftsman, see 1939.7.122. These figures are very similar in design and shape, but differ in their cicatrisation marks and neck ornaments. It is not clear if they were made as a pair. A similar style of representation is seen on the carved head of Acholi harp 1942.1.396.

This object is currently on display in the Court, Case 149B.

Rachael Sparks 14/9/2005
Primary Documentation:
Accession Book Entry
[p. 244] -
A.C.A. WRIGHT
, ESQ., ... Granville Park, S.E.13. [p. 270, top of left column] July [next to catalogue entry] 1939.7.122/123 [pencil tick after number] - Wooden figures of a man and a woman, made by Ajala, an old ACHOLI man in GULU, NORTHERN PROVINCE, UGANDA.
Additional Accession Book Entry [under accession numbers 1939.7.122/123, in red biro] - A10.F31.14-16.


Card Catalogue Entry
- There is no further information on the catalogue card [RTS 30/1/2004].