Nuer shield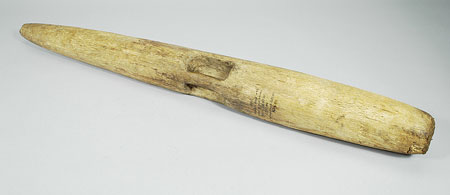 Other views of this artifact:
Accession Number:
1934.8.31
Country:
Sudan
Region:
[Southern Sudan] Wahda Bentiu
Cultural Group:
Nuer
Date Made:
By 1933
Materials:
Wood Plant , Textile , Cotton Yarn Plant
Process:
Carved , Hollowed , Woven
Dimensions:
L = 1030, W = 120, Th = 110 mm; handle W = 31 mm; textile fragment L = 360, W = 120 mm [RTS 11/1/2005].
Weight:
746.6 g
Local Name:
ghur?
Other Owners:
Collected by Percy Horace Gordon Powell-Cotton and his wife Hannah Powell-Cotton (nee Hannah Brayton Slater) on 8th June 1933 during a shooting expedition [RTS 11/1/2005].
Field Collector:
Percy Horace Gordon Powell-Cotton & Hannah Powell-Cotton (nee Hannah Brayton Slater)
PRM Source:
Percy Horace Gordon Powell-Cotton
Acquired:
Donated 1934
Collected Date:
8th June 1933
Description:
Parrying shield carved out from a single piece of soft, lightweight ambatch wood, with a cylindrical body that tapers in slightly to a flattened base at one end and to a rounded point at the other. The wood is a pale yellowish brown colour (Pantone 7509C), with traces of what may be a darker reddish brown bark in areas. The centre of the body has been carved out to form a hand grip on one side; the handle part of this, which is rectangular, has a convex inner face where the fingers fit around it, while the surface opposite is concave, giving space for the knuckles. A recess has been hollowed out on one side of this, approximately 86 mm in length, which was used as a storage compartment. This contains a scrap of old cloth, that appears to be taken from the sleeve of a buff cotton garment (Pantone 7500C), probably machine knitted, with a closely woven band around the sleeve edge, then a looser weave over the arm. At least one seam is preserved. The lower end is roughly torn, and there are several holes through the body. This cloth was probably used as wadding, to keep objects stored in the recess from falling out. The shield is complete, but has some surface damage, including a cut mark across the upper pointed end. It has a weight of 746.6 grams, is 1030 mm long, 120 mm wide and 110 mm thick; the handle has a width of 31 mm, while the textile fragment is 360 mm long and 120 mm wide.

Collected by Percy Horace Gordon Powell-Cotton and his wife Hannah at Bentiu on 8th June 1933 during a shooting expedition.

Powell-Cotton does not give the local name for this object, but Evans-Pritchard identified a similar ambatch parry shield by the term
ghur
(see the record for 1937.34.44). Similar shields are also known from the Dinka and Shilluk, where they are said to also serve as headrests and stools: see 1932.30.4 (Rueng Dinka), and 1979.20.80 (Dinka Tuich).

This example is made from ambatch wood (
Aeschynomene sp
.
), a type of leguminous shrub found through many parts of Africa, including the Sudan, growing in river shallows to a height of 4 to 6 metres. This wood is light and spongy, making it ideal for this type of object (source: http://www.probertencyclopaedia.com/B1AB.HTM).

Domville Fife talks about these shields in his discussions on the Nuer: "... the tobacco pouch, which consists of a piece of ambatch wood, about 3 feet in length, with a diameter of 5 inches. This is hollowed out to contain the smoking requisites, and also has a large hole about midway down to allow of it being gripped by the hand and used as a shield. The same hole is so shaped as to fit the neck of its owner, and is used as a pillow for sleeping purposes" (C.W. Domville Fife, 1927,
Savage Life in the Black Sudan,
p. 161).

Rachael Sparks 23/08/2005.
Primary Documentation:
Accession Book Entry
[p. 248] 1934 [insert] 8 [end insert] -
MAJOR P. H. G. POWELL-COTTON
, Quex Park, Birchington, E. Kent. Specimens collected by himself & Mrs Cotton, during hunting trips, 1933, viz: [...] [p. 250] From the
NUER
tribe, BENTIU [insert] 31 [end insert] - Parrying-shield of ambatch stem, with carved out grip and recess for containing small articles. (2762).
Additional Accession Book Entry [p. 249] - 1934.8.31 No given AP l[ength] = 1020 mm w[idth] = 120 mm.


Card Catalogue Entry -
There is no further information on the tribes catalogue card [RTS 23/7/2004].


Related Documents File
- Typewritten List of "Curios Presented to Dr. Balfour by Major & Mrs. Powell-Cotton. Tribe Nuer". This object appears as item 2762: "Ambatch wood shield, 8/6/33 Bentiu". Also contains details of a cine film 'some tribes of the Southern Sudan', taken by Powell-Cotton during this 1933 expedition, copies of which are now in the National Film and Television Archive and the Powell-Cotton Museum in Kent [RTS 14/3/2005].


Written on object -
(2762) Ambatch shield with recess for small articles. NUER, BENTIU, E. SUDAN. d.d. Major Powell-Cotton 1934 [RTS 11/1/2005].