Bari stool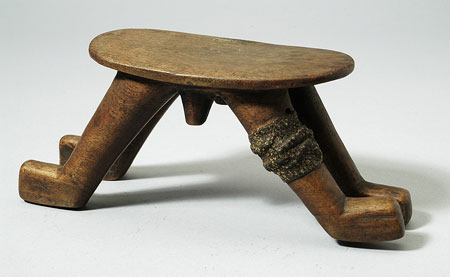 Other views of this artifact:
Accession Number:
1927.70.2
Country:
Sudan
Region:
[Southern Sudan] Bahr el Jebel Gondokoro
Cultural Group:
Bari
Date Made:
By 1927
Materials:
Wood Plant , Reptile Skin , Grass Fibre Plant
Process:
Carved , Stained , Polished , Perforated , Repaired (local) , Tied
Dimensions:
Ht = 123, seat L = 186, W = 101, th = 8 mm; leg W = 32, th = 26; foot L = 55 mm [RTS 11/4/2005].
Weight:
314 g
Other Owners:
Obtained by unknown collector in 1902, and sold by Stevens Auction Rooms on 18 January 1927 to PRM [RTS 9/4/2005].
PRM Source:
Stevens Auction Rooms
Acquired:
Purchased January 1927
Collected Date:
1902 [RTS 9/4/2005].
Description:
Stool carved from a single piece of yellow wood (Pantone 7508C), stained a darker reddish brown colour over most of the surface (Pantone 469C) and then polished. This has an oval seat, largely flat across its width and concave along the length. The underside of the seat is flat around the outside, then has a raised angular ridge running down the centre of the length, flanked by 2 conical knobs that mark the centre of each pair of legs. These splay out from the body at a forty-five degree angle, and are oval in section, before turning out at their bases to form elongated feet with flattened sides and ends. One leg has been broken and given a local repair, which consisted of drilling holes through the leg on either side of the break, and tying the two pieces together using a length of grass fibre cord, before covering the join with a sheath of greenish yellow reptile skin (Pantone 452C); this must have been shrunken onto the leg as it now forms a tight fit. The bulge of the cord can be seen encircling the leg underneath this. The stool is complete, and has a weight of 314 grams. It is 123 mm high, with the seat measuring 186 by 101 mm across and having a thickness of 8 mm; the legs are 32 mm wide and 26 mm thick, with a foot length of 55 mm.

This object was obtained in Gondokoro by an unknown collector in 1902, and sold by Stevens Auction Rooms on 18 January 1927 to the Pitt Rivers Museum.

For similar Bari stools see 1903.2.5 (collected at Gondokoro at around the same time) and 1940.12.535. The shape is also similar to Bongo stool 1884.3.16.

Rachael Sparks 23/08/2005.
Primary Documentation:
Accession Book Entry
[BIV, p. 72] - 1927. [insert] 70 [end insert]
STEVENS' AUCTION ROOMS
Jan. 18 [insert] 2 [end insert] - Wooden stool, BARI, GONDOKORO, UGANDA. [cost with 1927.70.2 - 4] 9/- P[ai]d petty cash, same date £
1.11.0
.


Card Catalogue Entry
- There is no further information on the catalogue card [RTS 12/2/2004].


Pre-PRM label -
No. 3
. Bari Stool, Gondokoro Uganda 1902 [oval paper label with serrated edge, stuck to object, probably auction sticker; RTS 9/4/2005].


Pitt Rivers Museum label
- Stool showing native mending. BARI, GONDOKORO,
UGANDA
, 1902. Pur. 1927 (Stevens) [paper label stuck to object]; AFRICA, Sudan, Gondokoro. BARI. Wooden four-legged stool with reptile skin repair. Coll. 1902, purchased lot 3 at Stevens Auction Rooms 18th January 1927. 1927.70.2 [plastic coated label, tied to object; RTS 9/4/2005].