Ostrich egg vessel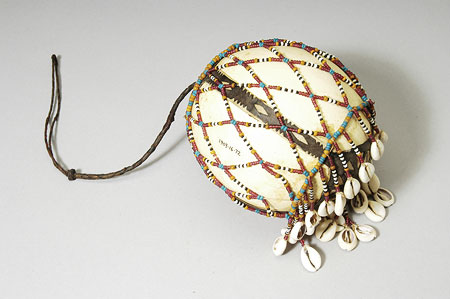 Other views of this artifact:
Accession Number:
1903.16.72
Country:
Sudan
Region:
[Southern Sudan] Upper Nile Kodok ?Omdurman
Date Made:
By 1903
Materials:
Ostrich Eggshell Bird , Bead , Animal Leather Skin , Cowrie Shell
Process:
Beadwork
Dimensions:
Max L [excluding fringe] = 145 mm Max Diam = 120 mm
Field Collector:
Donald Gunn
PRM Source:
Donald Gunn
Acquired:
Donated 1903
Collected Date:
By 1903
Description:
Ostrich eggshell ornamented with beadwork and cowrie-shell fringe.

Collected by Donald Gunn at Fashoda, now known as Kodok, and presented to the museum in 1903. This object was said to have been originally for carrying water, and then converted into an ornament.

Rachael Sparks 30/9/2005.
Primary Documentation:
Accession entry -
[III, p. 110] - 1903 [pencil insert] 16 [end insert]
DR
D. GUNN
Esq., M.B. 40 Dover Street, London, W. June. [...] [p. 112] - The following from N.W. Africa, collected by Dr. Gunn: viz: [pencil insert] 72 [end insert] - Fashoda ostrich egg-shell for carrying water, made into an ornament with bead-work. [...] Omdurman.'


Pitt Rivers Museum label -
FASHODA water-carrier converted into an ornament, OMDURMAN. Pres. by Dr. Gunn, 1903. [N.B. 'DCF 2004-2006 What's Upstairs?' 23/2/2005]